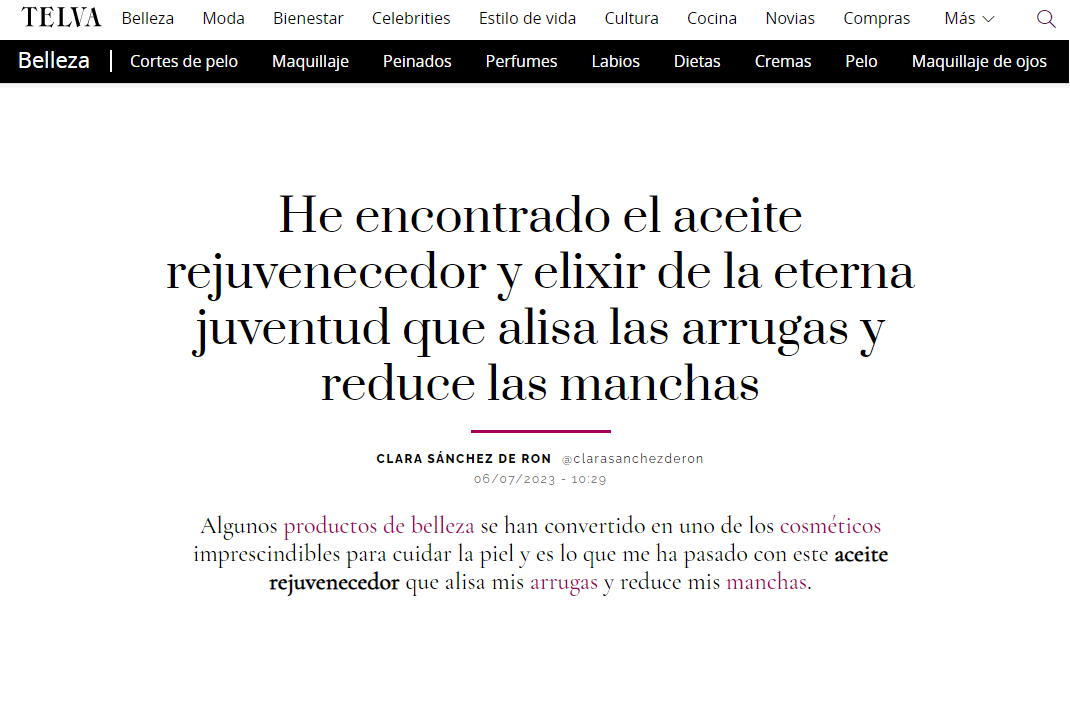 MARÍA D'UOL REJUVENATING OIL IN TELVA MAGAZINE
Clara Sánchez de Ron is sure "I have found the rejuvenating oil and the eternal youth elixir that softens the wrinkles and reduces the dark spots".
María D'uol Rejuvenating Oil has a velvety texture, silky and an aroma that surrounds you.
It is 100% natural with plenty of vitamins and bakuchiol, which is the natural alternative to retinol, non-irritating and non-photosensitive.
For our clients, that are already addicted to the eternal youth elixir, it is a must to have it.
It improves the dark spots, softens the fine lines and wrinkles and firms the skin. Your face will glow with vitality and energy.

Although, initially designed as a product to keep the skin young and to soft wrinkles and blemishes, there are many people with sensitive skin and rosacea who have told us that it is the best product they have used ever.
These results are because of the active ingredients that nourish and repair the skin without damaging the skin.
Bakuchiol: Retinol-like
Avocado Oil
Grapeseed oil

Omega-3 and 6 fatty acids
Rosehip Oil

Sweet Almonds Oil
Vitamin E
In this fantastic post about the Rejuvenating Oil of Maria D'uol, in TELVA magazine, we talk about Bakuchiol, which is bio-retinol, with all the benefits of retinol and not its contraindications.
It helps to keep the skin young and beautiful, increases its elasticity, reduces dark spots and softens the wrinkles.
The advantages are that it can be used under sunlight and also can be used daily. It can be applied by people with couperose, telangiectasia and sensitive skin.
You can read the complete post in the following link.